When bullying occurs it's often a natural reaction to experience feelings of helplessness and embarrassment. But there are ways you can help to regain some control in this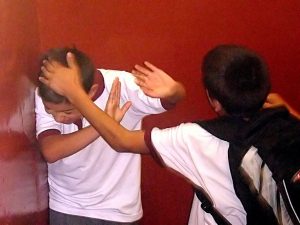 situation, starting with building a support system and developing a strategy on how to deal with this.
No More Bullying Strategy when it's Happening Face-to-Face
If you are experiencing bullying, the first thing to do is take a deep breath and see whether there is anyone around who can see what is happening.
Think about what is happening and ask yourself what you want the bully to stop doing. While it might sound obvious it's important to remind yourself that you're entitled to your feelings in this situation and no one can take this right away from you by telling you you're weak or that they are just messing around with you.
Try to be courageous and tell the bully what you want them to stop doing.
Walk away from the situation to where you will be safe, whether it's towards a classroom or a teacher.
Make sure not to retaliate or even threaten the bully with retaliation or the situation will generally escalate.
How to Respond to Online Bullying
While you may feel compelled to defend yourself if you are being bullied on your mobile phone, social media or your social networking, or even find out why it's occurred, it's better to avoid confrontation.
Having your phone in your bedroom when you are sleeping is also not a good idea if you're being bullied online as it's often tempting staying up trying to resolve the situation, which often won't happen.
Although it's hard to sleep when people are saying nasty things to you or about you, it's even harder sleeping if you spend the night constantly checking your social media or phone. Music is often a great way to calm you down in this situation so you can have some much-needed rest to deal with the emotional stress of the situation.
Reporting Bullying After it's Occurred
It's vital to report bullying after it's happened. While you may feel like you are getting someone in trouble it's the only way you can resolve a problem that you can't solve on your own. Whether you choose to report the bullying to a parent, teacher or even your neighbour, you need an ally to give you the confidence to help you face your fears.
How to deal with Bullying from a Friend
It's integral to have people around you who support you and help you feel good in yourself. If you're getting bullied by a friend you need to ask yourself these questions:
What do I believe are the most important things in a friendship?
Are my friends treating me the way I want to be treated based on these things?
If not, why am I staying in this friendship?
For further assistance with dealing with bullying or finding out how to talk about bullying, there are valuable online resources available at nomorebullyingme.com