Stop Smoking with Hypnotherapy
How do I stop smoking is a question that's asked by millions of nicotine addicts worldwide. And the answer can be as simple as a session with quit smoking hypnosis specialist Roland James.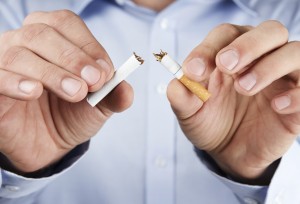 How can it be so simple to quit smoking?
Because hypnosis can give you the power to change your behaviour immediately.
Over the past decade, Gold Coast-based hypnotherapist, Roland James, has helped hundreds of people from Beenleigh to Tweed take control of their lives and stop their addiction to cigarettes – without major cravings or withdrawal symptoms.
In other words, thanks to Roland James' hypnosis, smoking really can become a thing of the past – quickly and easily!
Why Quit Smoking?
Chances are, if you're reading this page, you already have an idea as to why you want to stop smoking.
It could be because smoking is impacting upon your health.
Perhaps a quality life with your family has become more important to you.
You're tired of having to huddle in a corner while you smoke.
Or the ever-rising price of cigarettes is burning a serious hole in your pocket.
Whatever your reason for considering hypnosis to beat smoking, it's important that you want to quit smoking for yourself and not because someone else wants you to.
HYPNOSIS, SMOKING AND YOU. How it all fits together.
According to Roland James, trying to stop smoking is like trying to go to sleep. The more you try, the more difficult it can become.
So what he does is use hypnotherapy to re-educate your subconscious mind, turn past negatives into positive experiences and help you find a point of balance. You see, smoking is usually nothing more than a psychological habit that's worn a groove in the subconscious.
Because that groove is often linked to aspects of your life, especially your past, he will spend time finding out about you… what is happening, any issues you may be experiencing, triggers to your reaching for a cigarette …
Then, using hypnosis so that he's talking directly to your subconscious mind, he will remind you how wonderful life is as a non-smoker. Once this has taken place, it makes the entire experience of stopping smoking a much easier and more comfortable process.
Time is spent on all the times of day, places and situations where you habitually smoke. Your personal reasons for wanting to stop smoking are addressed. And a real, positive picture of your future as a non-smoker is created.
Roland James combines all this information – that is unique to you – with general stress management. In this way, he helps you to achieve increased levels of calmness and relaxation in your life. And he helps you realise how much more freedom you'll have once you quit smoking.
Roland will also give you a CD at the end of the session, to help make it even more effective. As it will be a recording of the key part of the session, it will be extremely helpful in your quest to stop smoking cigarettes. The end result is that you become in control of your own life once more – as opposed to having cigarettes controlling you.
Click here or call 07 5500 5573 to book a hypnotherapy appointment or ask for more detailed information on how I can help you.