Personal contact in business reduces Stress
Growing up I watched my father in business and the relationships he built, both professionally and personally. Now, in my own business, I realise that most of my best business connections are with people I already knew personally or they came from personal recommendations.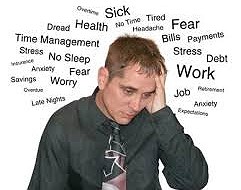 I grew up on a farm in England and farmed in my own right for over thirty years.  The agriculture merchants and other businesses that I did business with, I knew their representatives personally.  Not necessarily as close friends, but colleagues.
One incident in particular comes to mind.  A sales rep of a new machinery company, which had just started up in the area, arrived at my door one day.  At that point I really didn't need a new tractor, although I liked the idea of a new one.  The sales rep viewed my tractor, produced a quote for part exchanging of my tractor for a new one.   I was not completely conversed with the value of agriculture machinery.  I rang Philip a friend, who owned a machinery agency and told him of the quote. Phillip's immediate reaction was, "take the deal quick and make sure you have all the extras".   Phillip did not persuade me to deal with him and his own company; he missed out on a sale.  From then on, nearly all my machinery purchases were via Phillip's company.  I knew I had service reliability, mutual trust.  The same applied to all the agriculture merchants, who I purchased fertilisers and concentrated feed for the pig enterprise.  I was not a 'shopper' as such, trying to squeeze the lowest price.  What I had was quality and service.  To my mind these two factors are paramount.
I believe the Chinese get to know someone, building up understanding and trust.  This takes a considerable amount of time and energy.  Then they will do a million dollar business deal, on a hand shake!  I believe the Jewish culture to be similar in this approach.
What is stressing me and frustrating me is that most business today is done via the internet.  People go into Google and research someone to do business with.  This is a way I find difficult to come to terms with.  People are in their office and have a virtual world via modern technology.  They have no personal contact. They have no idea what the person or company's character is like.  They can just disappear into cyber space.  Hide behind answer phone messages, texts and emails.   I find this situation stressful and frustrating.  Perhaps I'm old fashioned.
Over the last few years I have come to terms with this approach however I still enjoy building relationships in Business.  I am now promoting my 'No More Bullying Me' business which involves downloadable CD's via the internet.  I have to promote myself as trustworthy and ethical to my prospective purchasers – online.  To help to take the stress away from my prospective purchaser, I'm offering a ninety day 100% money back guarantee.  To help me do this I work with the Marketing company 'Localtag', who handle all my sales promotions, website work etc.  I'm delighted that I have personal contact with Localtag; we have mutual trust. This not only gives me confidence, it eliminates my stress.  I believe it's also has the same effect for the team at Localtag. They know they can call me anytime for final decisions and information – it's a great relationship. This personal contact takes away stress and anxiety.
To read more about stress and anxiety click here. Contact me via my form here or via phone for an appointment (07) 5500 5573